The Battle For the Mind
Keeping it Pure
Dr. John Hoole – Jun 19, 2016
Over the last two weeks we have been studying what the Bible has to say about Adultery. Our text has been taken from the Sermon on the Mount, in Matthew 5.
Matthew 5:27-28 NKJV
27 "You have heard that it was said to those of old, 'You shall not commit adultery.'

28 But I say to you that whoever looks at a woman to lust for her has already committed adultery with her in his heart.
No one every "falls" into adultery. The adulterer's heart is always shaped and prepared by lustful thoughts before the actual deed occurs. Likewise, the heart of the thief is bent by covetousness. And the murder is the product of anger and hatred. All sin is incubated in the mind.
Jesus taught this truth to His disciples on more than one occasion. One such occasion is seen in Matthew 15.
Matthew 15:18-20 NKJV
18 But those things which proceed out of the mouth come from the heart, and they defile a man.

19 For out of the heart proceed evil thoughts, murders, adulteries, fornications, thefts, false witness, blasphemies.

20 These are the things which defile a man, but to eat with unwashed hands does not defile a man."
In the Bible, the heart is often shown as the seat of the whole person. It is speaking of our mind, imagination, affections, conscience, and will. The word "Heart" is often used as a synonym for "mind." So, in the verses we have read out of Matthew 5 & 15, our Lord was condemning the wickedness of an impure thought life.
The Bible, on many occasions, tells us that it is important to guard our minds from sinful thoughts. From wrong thinking comes wrong actions.
Proverbs 4:23 (NKJV) says:
23 Keep your heart with all diligence, For out of it spring the issues of life.
This verse tells us that to guard our heart will take diligence. That means it cannot happen without effort.
2 Corinthians 10:5 (NKJV) adds:
5 Casting down arguments and every high thing that exalts itself against the knowledge of God, bringing every thought into captivity to the obedience of Christ,
The apostle Paul instructs us how we need to bring wrong thoughts into captivity. The last phrase of the verse tells us that we must control our mind so that we can obey Christ.
John MacArthur says:
"No sin is more destructive to the conscience than the sin that takes place in the arena of the mind."
I like the use he makes of the word, "conscience." That, I believe, is because the sins of the mind assault the conscience like no other sins, because the conscience is the mind's only deterrent. After all, who but God and the sinner ever knows about them? Isn't that the way the apostle Paul presents it to the Corinthians.
1 Corinthians 2:11 NKJV
11 For what man knows the things of a man except the spirit of the man which is in him? Even so no one knows the things of God except the Spirit of God.
Many people who will not do evil deeds are nevertheless boldly evil in their thoughts. A man who abstains from fornication for fear of getting caught might convince himself it is all right to indulge in salacious fantasies because he thinks no one will ever discover a private sin. The sin of the mind may be a thousand times more evil than anything he would ever think of doing before others. And yet, the Scripture says his guilt is the same.
To indulge in sins of thoughts is to molest the conscience directly. Those whose thoughts are impure cannot have a pure conscience. The guilt is inherent in the evil and impure thoughts. When the thoughts are defiled, the conscience immediately is also tainted.
Look at the way the apostle says it to Titus.
Titus 1:15 NKJV
15 To the pure all things are pure, but to those who are defiled and unbelieving nothing is pure; but even their mind and conscience are defiled.
A sin of the mind does not have to wait for an opportunity. The mind can sin anytime, anywhere, under any circumstance. So the habit is quickly and easily established. By engaging the inner faculties – mind, emotions, desire, memory, and imagination, thought sins work directly on the soul to bias it towards evil.
Ralph Waldo Emerson
"So a thought, reap an act. Sow an act, reap a habit. Sow a habit, reap a Character. Sow a character, reap a destiny."
It is relatively easy to confess and forsake deeds of omission and unintentional sin. But the sins of our thought life are soul-coloring sins, character-damaging sins. And dealing with them thoroughly is sometimes a difficult task. However, this is an area that must be addressed vigorously. If we continue without addressing them, our conscience will certainly be dulled.
While sins of the mind are not seen by others, they are seen by the one who will one day judge them.
"God knows our heart" (Acts 15:8).

"God is greater than our heart and knows all things." (1 John 3:20).
David wrote: "You understand my thought from afar … and are intimately acquainted with all my ways. Even before there is a word on my tongue, behold, O Lord, You know it all" (Psalm 139:2-4).
After knowing this, why, then, would we ever feel free to indulge in gross sins in our imagination, sins we would never act out before others – when we know that God is the audience to our thoughts. "God knows the secrets of the heart" (Psalm 44:21).
It is not easy to keep our thoughts pure and holy, but our sinful thoughts are the first and most important sins we are called to crucify. Jesus taught us that those sinful thoughts are the source and the fountain of all the evil that defiles us. Scripture and Jesus is explicitly teaching that you are not defiled by sin that rubs off you from the outside. Think of it. Jesus, perfectly sinless, came to this earth, dwelt among sinners as a man, and the sin that He lived in the midst of, never rubbed off on Him. Why? Because there was no sin coming from within to defile Him. The truth is, our own sinful thoughts, what emanates from our own heart and mind, are the source of every problem we have. That is what defiles us.
When the apostle Paul commands us to kill the sin that is in our members, his focus was not on external deeds.
Colossians 3:5 NKJV
5 Therefore put to death your members which are on the earth: fornication, uncleanness, passion, evil desire, and covetousness, which is idolatry.
The New Living Bible renders this verse as:
5 So put to death the sinful, earthly things lurking within you. Have nothing to do with sexual immorality, impurity, lust, and evil desires. Don't be greedy, for a greedy person is an idolater, worshiping the things of this world.
The sins mentioned here by Paul are sins of the mind. The apostle is not saying what your mother meant, when you were a child and she said ΅Behave." She meant, "Act nice." Paul means, "Think nice."
Pornography
One avenue down which impure thoughts have taken many – especially men – is pornography. Pornography has been an influence for a long time, but it has never been as accessible as it is today. Forty years ago, pornography was isolated. Now it is easily accessible in the privacy of your own home.
Porn sites get more internet traffic than Netflix, Twitter and Amazon combined.
30% or more of the entire internet is related to pornography.

A study in the southeastern U.S. found that 53% of boys and 28% of girls, age 12-15, reported use of sexually explicit media, with the internet being the most popular form of viewing.

20% of all internet searches are for pornography.
Did you know that 9 out of 10 boys and 6 out of 10 girls are exposed to pornography before age 18.
Pornography is conditioning teens to believe that deviant sex is normal.
The chart on the right shows the annual video views on only one pornography website since 2009.
This epidemic is not just outside the confines of the Church. Did you know that 76% of Christians between 18 – 24 actively seek out porn? Only 32% of young Christians believe porn to be immoral. In the U.S., 46% of all men ages 18-39 view porn weekly.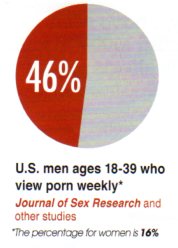 God created men as visual beings capable of processing an incredible amount of sensory input.
HOW DO WE OBTAIN VICTORY AND WALK IN PURITY?
We have been addressing sins of the mind. I believe all sins begin in our thought life. In the last dozen years, I have probably made the following statement three or four times: "I believe all sins can be categorized in the three types listed in 1 John 2:16."
1 John 2:16 NKJV
16 For all that is in the world — the lust of the flesh, the lust of the eyes, and the pride of life — is not of the Father but is of the world.
Three types of sins mentioned here:
• Lust of the flesh.
• Lust of the eyes.
• Pride of life.
All three types mentioned here are sins that begin in the mind. I believe all sins begin their formation in our thought life. So, the remedy for these sins must also being in the mind. Proverbs 23:7 tells us, As a man thinks in his heart, so is he.
Because of this, it is easy to understand when God tells us that the recovery must begin in the heart and mind. Salvation is an inside job, and so it is with victory over sexual sins. Our mind must be transformed and renewed. Also, we must realize we cannot do this task ourselves.
Romans 12:1-2 NKJV
1 I beseech you therefore, brethren, by the mercies of God, that you present your bodies a living sacrifice, holy, acceptable to God, which is your reasonable service.

2 And do not be conformed to this world, but be transformed by the renewing of your mind, that you may prove what is that good and acceptable and perfect will of God.
I want to provide some areas of focus that will help us retain our purity or to give victory to the person caught in sexual sins.
Repent
Proverbs 28:13 NKJV
13 He who covers his sins will not prosper, But whoever confesses and forsakes them will have mercy.
The single biggest factor in combatting such sexual and porn addiction is to come under the authority of Jesus Christ. You are involved in a spiritual battle. The Bible contains no promise of help in overcoming temptation for those who are unsaved. If you are not yet a Christian, I strongly urge you to confess your sin and totally surrender your life to Him. Accept His gift of eternal salvation for your soul. After accepting Christ, some are totally delivered from their addictions. For any that are not believers, this is where it must begin.
For the believer, this is also where it begins if you want to walk the path of total victory over sexual sins and addictions. Confess your sins and rededicate your life to Christ. Don't hold back any part of your life from Him. Humble yourself before Him – Surrender it all. Ask Him to help you live a life of purity and true love. And admit that you cannot overcome sin on your own.
It truly is virtually impossible to overcome sexual sins on your own. God cannot work with you if you are still trying to overcome on your own. To do so is a form of pride. You are in effect telling God, "I can take care of this myself." Consider a few verses from Scripture.
Psalm 10:4: "The wicked in his proud countenance does not seek God,…"
Proverbs 11:2: "When pride comes, then comes shame; But with the humble is wisdom."
1 Peter 5:6-7 NIV
6 Humble yourselves, therefore, under God's mighty hand, that he may lift you up in due time.

7 Cast all your anxiety on him because he cares for you.
You see, God's willingness to "exalt you" (lift you up spiritually), is dependent on your willingness to humble yourself before Him. But the second part is just as important. God cares for you so much that He is willing to take all of your cares, that is, all your worries, anxieties, needs, fears, desires, regrets, etc. upon Himself. It is when we realize our inability to handle the cares of life and give them all over to God that He will then lift you up spiritually, and you will find peace and freedom unlike anything you have ever known.
When we humble ourselves, the Holy Spirit will work powerfully in you. He can produce in you the fruit He promised: love, joy peace, patience, kindness, goodness, faithfulness, gentleness, and self-control (Galatians 5:22-23).
Notice that last one – Self Control. In this context, it is important to see that self-control is not simply a matter of one's will. It is, in fact, a fruit of the Holy Spirit working in us. What a merciful God we have.
Fill Your Mind with God's Word
Psalm 119:11 NKJV
11 Your word I have hidden in my heart, That I might not sin against You.
Several years ago, Dr. Paul Meier decided to study the psychological health and spiritual lives of seminary students at an evangelical university. The participants were separated into three groups:
Group A: those with exceptional mental health and high level of maturity

Group B: those with normal mental health and maturity

Group C those with significant psychological conflict and emotional pain.
When the results came in, initially the tester was surprised and disappointed. Those seminary students who had been Christians for many years were only slightly healthier and happier than those who had accepted Christ in the past one or two years. The difference was not even statistically significant. However, his disappointment turned to joy. They learned one of the most valuable lessons of my life when I found the factor that made the difference.
Students who practiced almost daily Scripture reading and meditation for three years or longer, were significantly healthier and happier than students who did not meditate on Scripture daily. Also, they were significantly healthier and happier than students who had meditated on Scripture daily for less than three years." Here are some passages that may help.
1 Peter 2:11 NKJV
11 Beloved, I beg you as sojourners and pilgrims, abstain from fleshly lusts which war against the soul,
Romans 8:13 NKJV
13 For if you live according to the flesh you will die; but if by the Spirit you put to death the deeds of the body, you will live.
Romans 6:12 NKJV
12 Therefore do not let sin reign in your mortal body, that you should obey it in its lusts.
Proverbs 6:25-29 NKJV
25 Do not lust after her beauty in your heart, Nor let her allure you with her eyelids.

26 For by means of a harlot A man is reduced to a crust of bread; And an adulteress will prey upon his precious life.

27 Can a man take fire to his bosom, And his clothes not be burned?

28 Can one walk on hot coals, And his feet not be seared?

29 So is he who goes in to his neighbor's wife; Whoever touches her shall not be innocent.
2 Timothy 2:22 NKJV
22 Flee also youthful lusts; but pursue righteousness, faith, love, peace with those who call on the Lord out of a pure heart.
Accountability
Although it is healthy to be ashamed of the sins you are involved in, don't let that shame become one of Satan's weapons to keep you trapped. Secrecy is often a Christian's biggest enemy. But confession can bring freedom and release from the bondage of sexual sins. If no one knows of your personal moral failures, there is no one to be accountable to or to help lift you up in prayer or encourage you. One of the secrets to having a great marriage is to have no secrets.
Proverbs 29:23 NKJV
23 A man's pride will bring him low, But the humble in spirit will retain honor.
If your addiction involves viewing Internet pornography, there are a number of computer software programs that will help. While some internet filters can provide some help, they can also block acceptable web sites. Filters can also be turned off or bypassed, making them less than totally effective.
But there are some programs that will link you to an accountability partner. Probably the most well-known of such sites is "Covenant Eyes." There are a number of other sites providing a similar service.
Here is how they work. You pick an accountability partner to monitor your internet traffic as given in a weekly report from "Covenant Eyes." You should pick someone you trust and the same sex and you. One the Covenant Eyes software is on your computer, it monitors your web traffic and your search input. If you turn off the software, you cannot get on the internet at all. If you disable the software, your accountability partner gets an immediate warning. Knowing that someone else will be receiving a report will often find their temptation dramatically reduced.
Are you aware that every pastor at New Life Church must subscribe to such a software and have an accountability partner. Most, maybe all, elders voluntarily do the same. Another item that may be of interest is this: When our pastor Troy goes on a trip without his wife, Jana, some male always goes with Him. This is all part of making sure we are accountable.
I have been a customer of Covenant Eyes for many years. My brother Ken, in Oregon, is my accountability partner.
Let me give you an example of how this works, using an illustration that happened just this week. In preparation for this very lesson I am teaching today, I did a search on the internet using the search words "pornography statistics" or "statistics about pornography."
None of the web sites I looked at had anything pornographic images on them. I got a call from my brother early Friday morning. He had gotten a warning from Covenant Eyes indicating a possible problem on my part. He said the warning was not actually pornography, but possibly on the edge. I told Him what I had done, and he could corroborate the truth of what I said. He was looking at the words I used to make my searches and what sites I visited. I thanked him for holding me accountable. As soon as I got off the phone, I called Paula and let her know.
Monitor your eyes
Psalms 119:37 NKJV
37 Turn away my eyes from looking at worthless things, And revive me in Your way.
Steven Arterburn in his book "Every Man's Battle," talks about retraining the eyes to "bounce away" from visual things that stimulate lust in you. For men, this might mean you need to look away as soon as you see a scantily dressed female. Don't fuel your lust. Avert your eyes from temptation, and don't look back. This could also apply to those magazines you see at the checkout counter at the grocery store. Or it could be billboards or television commercials. "Bounce" your gaze away., quickly, and don't turn back
Job 31:1 NKJV
1 "I have made a covenant with my eyes; Why then should I look upon a young woman?
Proverbs 21:4 NIV
4 Haughty eyes and a proud heart, the lamp of the wicked, are sin!
I would rather make a moral covenant with my eyes, like Job, than retain haughty eyes and a proud heart. Job makes another statement in the same chapter. In Job 31:7 challenges his comforters to identify "if my heart has been led by my eyes."
Later in the Sermon on the Mount, Jesus makes this statement:
Matthew 6:22-23 NKJV
22 The lamp of the body is the eye. If therefore your eye is good, your whole body will be full of light.

23 But if your eye is bad, your whole body will be full of darkness. If therefore the light that is in you is darkness, how great is that darkness!
Remember the words of a chorus we sang as children.
Be careful little eyes what you see,
Be careful little eyes what you see.
For the Father up above is looking down in love,
So be careful little eyes what you see.
CLOSING
There are several other ways to help one keep his or her mind pure before God. But with our time crunch this morning, these will suffice for now.
Do you realize that the difference between a sincere, Spirit-controlled, devoted, godly, obedient Christian and a defeated, weak struggling Christian is what takes place in the mind? They may be attending the same church, active in the same ministries, and externally doing the same things, but one is defeated and the other lives a spiritually fruitful life. The difference is the thought life.
One day the difference will be made manifest. Paul told the Corinthians that when the Lord comes, He "will both bring to light the thing hidden in the darkness and disclose the motives of men's hearts" (1 Corinthians 4:5).
Jesus said something similar in Luke 8.
Luke 8:17 NKJV
17 For nothing is secret that will not be revealed, nor anything hidden that will not be known and come to light.
And again, in Luke 12:1-2 (NKJV)
1 …Beware of the leaven of the Pharisees, which is hypocrisy.

2 For there is nothing covered that will not be revealed, nor hidden that will not be known.
I urge you to look deeply into the mirror of God's Word, which, according to Hebrews 4:12, says His Word is a "discerner of the thoughts and intents of the heart."
Be careful to fill your mind with God's Word.
Keep your mind clean, avoiding anything that pollutes it.
Establish accountability with a fellow believer and keep in touch.
Put a watch before your eyes.
Avoid areas or things that bring impure thoughts.